AARDVARK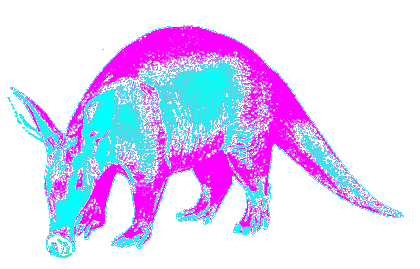 No Aardvarks were harmed in
the preparation of this Website
Iím Sorry I Havenít a Clue
Comes to Cardiff
21st December 1998
An event supported by leading
Theosophists in the area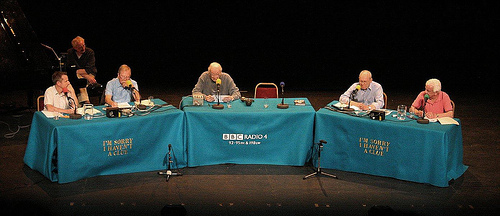 Iím Sorry I† Havenít a Clue
The Antidote to Panel Games
This is a very popular programme with Theosophists. The show is introduced as "The Antidote to Panel Games" and consists of a panel of four comedians, split into two teams and "given silly things to do" by a chairman. The programme was first aired on April 11th 1972 and the signature tune is a cabaret version of Deutschland Uber Alles called "The Schickel Shamble" written by Ron Goodwin.
You can catch this show and Mrs Trellis of North Wales regularly on BBC Radio 4 and the World Service. Some old episodes are run on BBC 7 (Digital Radio). The show tours the country and you may be able to get in as part of the studio audience.
Iím Sorry I havenít a Clue was held in Cardiff on December 21st 1998 opening with the customary letter from Mrs Trellis of North Wales
Mrs Trellisís letter was introduced by Humphrey Lyttelton
...but first I notice from the bulge in our postbag this week, that
another card has flooded in from a Mrs Trellis of North Wales, with comments on her favourite show. She writes:
††††††††††††
Dear Mr. Duggleby,
Great, Great, Great, Great, Great, Great.
Yes, Great, Great, Great, Great, Great.
Does that Delia Smith do nothing else all day?
†††††††††††
Yours sincerely,
Mrs. Trellis
Cambridge
There was also a Samantha Pick up Line
To ensure that each panellist is allocated a suitable record, Samantha has spent a rewarding evening amongst the shelves down in the gramophone archive. As ever, her keen eye spotted a firm favourite or two, and she couldn't resist getting them down. She's ready and waiting at the turntable with her neatly arranged set of forty-fives on display and ready to spin for your delight.
Colin Sell was introduced at the start of the Censored Song Round;†††††††††††
Musical accompaniment will be provided by Colin Sell, who many listeners may remember from the 1970's, when he played the mouth organ in Black Lace. It's still known as one of the worst novelty drag acts ever to appear on Opportunity Knocks.
The show concluded with the Late Arrivals at the Driving Instructorsí Ball. The subject of the ball is announced near the start of the show and the participants work on their gags and present the Late Arrivals as a Grande Finale. The game has been played at Cardiff Theosophical Society Christmas parties except that participants (anyone who comes) are given about six weeks notice of the subject of the ball.
The Late Arrivals at the Driving Instructors' Ball
Mr & Mrs Gencystop, & their daughter, Emma
Mr & Mrs Ellayswansea, & their son, Davy
From Bombay, the Beforepullingout family, & their daughter, India Kate
Mr & Mrs Feelingyouneedmorelessons, & their son, Ivor
From Spain, Mr & Mrs Gears, & their son, Manuel
Mr & Mrs Bennettmaureenyourgonnahithim-No-No, & their son, Gordon
Mr & Mrs Plates, & their young daughter, Noelle
Mr & Mrs Signalmanúuvre, & their daughter, Moira
Mr & Mrs Willyouslowdown, & their only son, Jesus
It's cabaret time, with Toyota Willcox & Tina Three-Point-Turner, singing Reverse Deep, Mountain High
Mr & Mrs Positionat-thelights, & their daughter, Jocelyn
Mr & Mrs Doutinfrontofmewithoutsignalling, & their illegitimate son, the bastard Paul
Mr & Mrs Viewmirror, & their daughter, the Rhea
Here is a Mornington Crescent Theosophy Website
The Earth Base for Evolutionary Theosophy
Worldwide, London & UK Theosophy Links.
London Directories & London Blog Links. London Bookshops†
Info for Fans of BBC Radio 4ís Iím Sorry I Havenít a Clue
http://www.blavatskycalling.theosophywales.org.uk/morningtoncrescenthomepage.htm
Essential reading for fans of Mornington Crescent. The big names and history and development of the game. Mrs Trellis of North Wales is reported to be a legendary player.
Mornington Crescent Psychic Insomniacs
_____________________
AARDVARK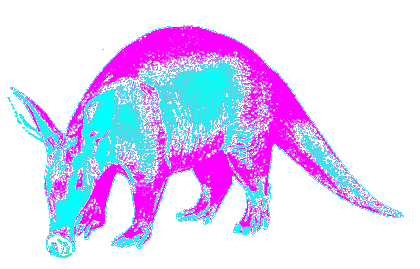 For more info on Theosophy
Try these
Daveís Streetwise Theosophy Boards
If you run a Theosophy Group,
Please feel free to use any of the
†material on this Website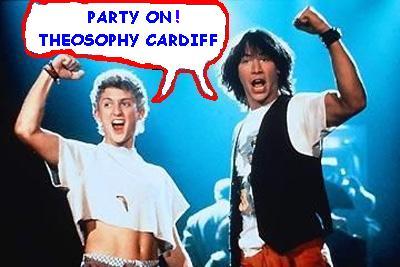 The Cardiff Theosophical Society Website
The National Wales Theosophy Website
This is for everybody not just people in Wales
Theosophy Cardiffís Instant Guide to Theosophy
One Liners & Quick Explanations
The Most Basic Theosophy Website in the Universe
If you run a Theosophy Group you can use
this as an introductory handout
The main criteria for the inclusion of
links on this site is that they have some
relationship (however tenuous) to Theosophy
and are lightweight, amusing or entertaining.
Topics include Quantum Theory and Socks,
Dick Dastardly and Legendary Blues Singers.
Lentil burgers, a thousand press ups before breakfast and
the daily 25 mile run may put it off for a while but death
seems to get most of us in the end. We are pleased to
present for your consideration, a definitive work on the
subject by a Student of Katherine Tingley entitled
General pages about Wales, Welsh History
and The History of Theosophy in Wales
The Spiritual Home of Urban Theosophy
The Earth Base for Evolutionary Theosophy
Classic Introductory Theosophy Text
A Text Book of Theosophy By C W Leadbeater
What Theosophy Is† From the Absolute to Man
The Formation of a Solar System† The Evolution of Life
The Constitution of Man† After Death† Reincarnation
The Purpose of Life† The Planetary Chains
The Result of Theosophical Study
An Outstanding Introduction to Theosophy
By a student of Katherine Tingley
Elementary Theosophy† Who is the Man?† Body and Soul†††
Body, Soul and Spirit† Reincarnation† Karma
Try these if you are looking for a
local Theosophy Group or Centre
UK Listing of Theosophical Groups
Worldwide Directory of Theosophical Links
__________________________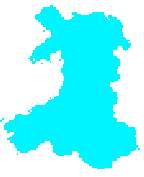 General pages about Wales, Welsh History
and The History of Theosophy in Wales
Wales is a Principality within the United Kingdom
and has an eastern border with England.
The land area is just over 8,000 square miles.
Snowdon in North Wales is the highest mountain at 3,650 feet.
The coastline is almost 750 miles long.
The population of Wales as at the
Finding Stuff in Wales
North Wales is easier to find than Mrs Trellis
If you are thinking of participating in one of the many expeditions to look for
Mrs Trellis of North Wales, you may find these Wales links very useful.
You should be aware however, that despite many expeditions to North Wales
by experienced members of the Theosophy Movement and a satellite launched
from the Llanfairfechan Space Centre in 1983, Mrs Trellis has never been found
Please note also that Mrs Trellis of North Wales may no longer live in North Wales
but still keep the title. Members of the House of Lords do this all the time.
National & Regional Wales Web Directories
National
Welsh Regions
North Wales Regional Directory
Denbighshire, North Wales, UK. LL21 Ė 0DD
†
†